Moving forward NSTRU becomes to the 8th in the category of Rajabhat Universities by national ranking
ข่าวน่าสนใจ / 08 กุมภาพันธ์ 2562 /
หน่วยประชาสัมพันธ์ #1
เปิดอ่าน 613
---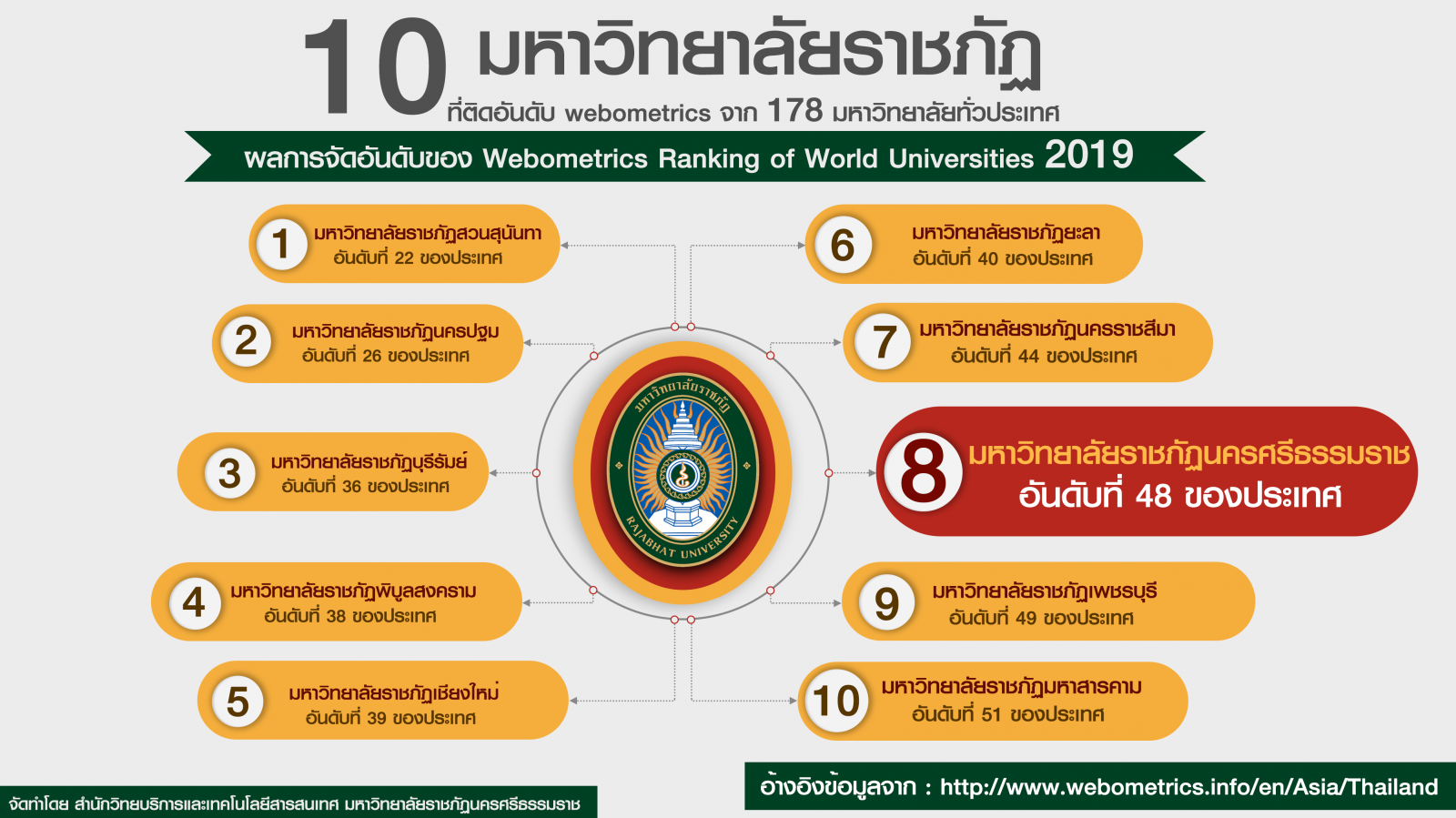 Most recently, updated information of the month January 2019 from the Center for Scientific Information and Documentation (CINDOC), the Spanish National Research Council (CSIC) in Madrid, Spain, has announced the latest ranking called the Webometric Ranking of World Universities. This ranking was carried out by Cybermetrics Lab or Internet Lab, part of CINDOC, and an organization that has done so twice a year in January and July. This year, more than 28,000 universities were ranked on their academic quality and the top universities were announced to be Harvard University, Stanford University and Massachusetts Institute of Technology respectively. These three universities are all located in the United States of America.
This year, it is an honor that Nakhon Si Thammarat Rajabhat University is in the top 10 leading Rajabhat Universities in Thailand, and also rose to the 48th in the national rank, whereas the 1st, 2nd, and 3rd are Chulalongkorn University, Mahidol University, and Chiang Mai University Mahidol University successively.
The criteria or key performance indicators used in the Webometrics, are not a ranking of website ranking of the university but are a ranking of the research impact and the impact of academic work presented on websites of the university and other websites. The ranking does not look at web design or number of visitors but looks at content of research and academic work. The size of the indicators refers to the number of webpages of all websites in the same domain. Visibility refers to the number of links which link or refer outside content. Rich Files refers to the number of data files or documents under the same domain. Scholar refers to the number of academic articles and references in the domain of the university and searchable through Google Scholar.
The outcome of the ranking is seen as proof that a regional university like Nakhon Si Thammarat Rajabhat University can develop knowledge by using research as base for operations and is a quality educational organization which has academic advances comparable to world leading universities.
The ranking can been reviewed at: http://blog.eduzones.com/magazine/204995?fbclid=IwAR2rrhXNWnLweQOpPdTP3zuknYeOtHO2xR1TrmkzxiTxll_HuXWcFlKkfMM
Written by: Arnont Chamchan
Tag
---
ข่าวที่เกี่ยวข้อง
https://www.nstru.ac.th//resources/content/4/2016-06-20-11-22-390.62449100%201466396559logo_nstru.png 1 Moo 4, Tha Ngio, Mueang Nakhon Si Thammarat
Nakhon Si Thammarat Province, 80280, Thailand [.main.description] Nakhon Si Thammarat Rajabhat University 075-392040 www@nstru.ac.th https://www.nstru.ac.th/