A student of the Department of Thai Language, NSTRU wins first prize in the speech competition and represents the university in the national-round competition
ความภาคภูมิใจ / 21 พฤศจิกายน 2562 /
หน่วยประชาสัมพันธ์ #1
เปิดอ่าน 290
---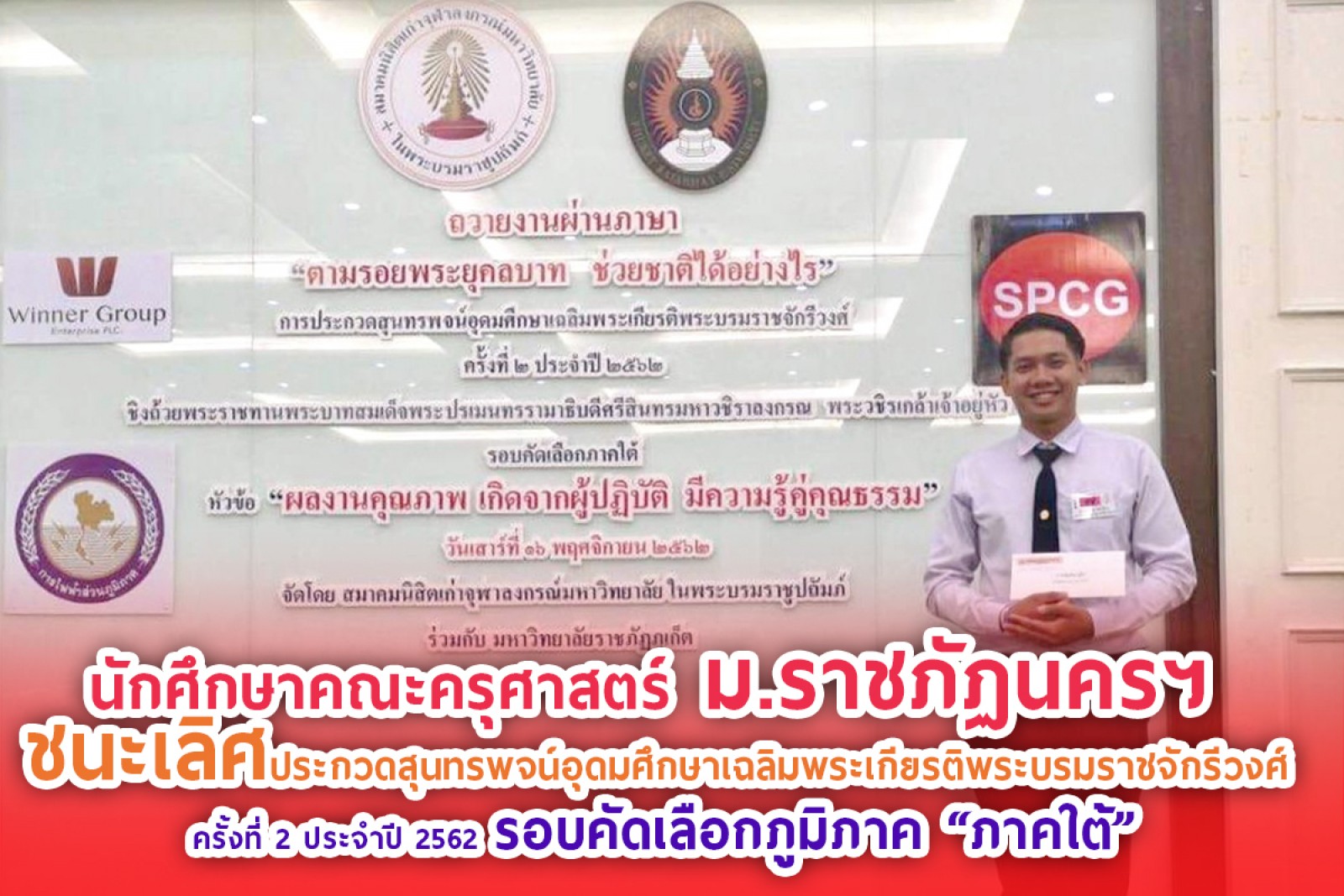 Nakhon Si Thammarat Rajabhat University and the Faculty of Education extend their appreciation and congratulations to Mr. Kakana Payom, who is a first year student majoring in Thai Language of the Faculty of Education on winning the first prize from the Southern region preliminary round in the 2nd Higher Education Speech Contest to honor the Royal House of Chakri.
This competition is a part of the project called "Making offers through language" which has the focus to disseminate royal guidance, speeches of the king and royal teachings under the concept "How can we help the nation through royal philosophy", which was co-organized by the Chulalongkorn University Alumni Association under the Royal Patronage and Phuket Rajabhat University on November 16, 2019. The winner will get His Majesty King Maha Vajiralongkorn Bodindradebayavarangkun's royal cup from the final round and a prize of 50,000 THB as scholarship.
The speech competition, making offers through language helping the nation through royal philosophy, this time has the slogan "Quality work caused by practitioners, along with knowledge and virtue". The aim is to select students who have the skills in public speaking and using the Thai language correctly, to represent their own university in national competitions. At the event there were students and interested parties who participated in the competition in large numbers.


Written by: Arnont Chamchan
Tag
---
ข่าวที่เกี่ยวข้อง
https://www.nstru.ac.th//resources/content/4/2016-06-20-11-22-390.62449100%201466396559logo_nstru.png 1 Moo 4, Tha Ngio, Mueang Nakhon Si Thammarat
Nakhon Si Thammarat Province, 80280, Thailand [.main.description] Nakhon Si Thammarat Rajabhat University 075-392040 www@nstru.ac.th https://www.nstru.ac.th/